Because we have such a specialized product, many of the web searches that end up at our site are based on referrals from other companies within the sheet metal, HVAC or turning vane industry.
Yes — there really is a turning vane industry, though it's more of a subset of the HVAC system design industry which is — in and of itself, pretty large.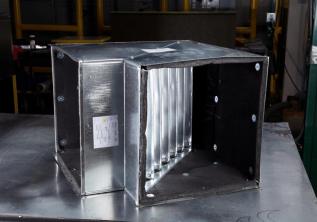 When mechanical engineers, contractors or the actual manufacturers of ductwork systems are searching for information about HVAC turning vanes — performance, specifications, installation, etc. — a quick Google search can often point them in the right direction.
Those searches might be…
Which turning vane is best for commercial building projects?
What does a 2″, 3″ or 4″ vane rail mean for my next project?
How does a turning vane impact the airflow within ductwork?
How many turning vanes do I need for my design?
Can turning vanes really lessen the noise generated by pushing air through the duct system?
The variety of questions is relatively endless as each commercial HVAC system is unique to the building it will be residing in. HVAC design and the components of the system — like turning vanes — will differ as well as the requirement of the system will impact its design.
For example: an elementary school my require their ductwork to push air quietly throughout the building so there is less 'noise disruption' for children trying to learn. A local or state government may need a highly efficient system that lowers life cycle operational costs on it's public buildings.
Hercules Industries is one website that refers traffic to Aero Dyne. The company represents our products, selling them to be used on HVAC designs that require turning vanes that help improve airflow for better operational output and lower noise volume. AirDesign.com and the USGBC also push people to our website who are searching for more in-depth turning vane information.
Learn more about high performance turning vanes
To learn more about Aero Dyne turning vanes and how their addition to your HVAC design requirements could help you satisfy your project outline, please contact us at 800.522.2423. You can also request your free turning vane sample and engineer's kit by clicking here.