Our company manufactures the High Efficiency Profile (H-E-P) Turning Vane and Rail System for use in Commercial HVAC Systems.  The superior airfoil contour reduces generated sound power levels and relative pressure loss to their lowest attainable levels.
No other product provides comparable quality, structural integrity and performance.
To better understand the quality construction of our turning vanes, click here to get your Free Sample.
Our vanes are Made in the USA and designed specifically for use in square ducts with velocities between 1500 and 2500 fpm.  H-E-P provides maximum turning efficiency and the precise aerodynamic design allows for the greatest steadiness of airflow through the cascades. They eliminate breakaway of flow from surfaces on suction side, providing velocity distribution to its greatest possible uniformity and maintaining a consistently high-degree of deflection accuracy.
Consulting engineers and contractors have specified High Efficiency Profile Turning Vanes & Rail.
Our Recent Projects
'Unmatched Performance' is why Aero-Dyne H-E-P was specified and installed on projects like these:
Auburn (CASIC) Research Park – Auburn, AL

Benaroya Hall – Seattle, WA
Brookhaven Laboratory – Long Island NY
Houston Methodist West Hospital – Houston, TX
Whatcom Museum, Lightcatcher – Bellingham, WA
Nemours Children's Hospital – Orlando, FL
Princeton Jadwin Hall – Princeton, NJ
St. Mark's Lone Peak Hospital – Draper, UT
Tullio Arena – Erie, PA
UW Chamberlin Hall Laser Lab – Madison, WI
View all of our latest projects here…
Our Story
Aero Dyne has been manufacturing High Efficiency Turning Vanes & Rails for over 40 years.
Gordon R. Jacobsen, a West Point graduate, invented the product to address the problem engineers faced with airflow deficiencies and noisy duct systems.
Gordon's precise design has never been duplicated, making it the only true airfoil high performance turning vane available today.
Aero Dyne Turning Vanes & Rail have been specified and installed in thousands of projects.  Many of these projects have had a high performance, sustainable design focus where Aero Dyne was written in "No Substitutions" making it clear no other product would be accepted.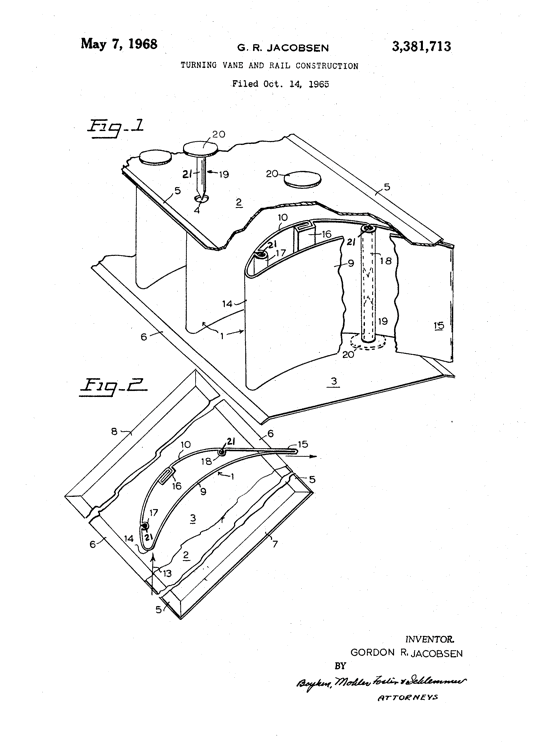 Jacobsen applied for and was granted patent #US3381713 A.  Today, mechanical engineers and sheet metal fabricators still rely on Aero Dyne to provide the industry's leading quality turning vane solution.
Please review our recent projects in which Aero Dyne Turning Vanes were specified for use. For the latest news or to request a Free Engineering Kit and Sample, please contact us here.