The Aero Dyne "High Efficiency Profile" Turning Vanes & Rail system reduces required fan HP resulting in 24/7/365 savings. The true airfoil design also reduces generated sound power and relative pressure loss to their lowest attainable levels. Lower sound power levels will result in lower sound pressure levels – that is why engineers specify Aero Dyne turning vanes.
Engineers have been specifying Aero Dyne Turning Vanes & Rail by name for more than 40 years, because no other product provides comparable quality, structural integrity and performance.  Aero Dyne Turning Vanes have a unique 3″ radius design, providing maximum turning efficiency for commercial airflow velocities.
H-E-P turning vanes go through 17 points of roll forming precision using one piece of galvanized steel for the most positive rigid fit possible.  The design geometry adapts perfectly to all duct sizes, regardless of the inlet and outlet dimensions of the duct elbow, thus eliminating the need for multiple vane sizes.
The precise aerodynamic turning vane design allows the greatest steadiness of airflow through the cascades, eliminates breakaway of flow from surfaces on the suction side, provides velocity distribution to its greatest possible uniformity, and maintains a consistently high-degree of deflection accuracy.
You may not know if Aero Dyne H-E-P Turning Vanes are in your system but you will know if they are not.
Not all HVAC Turning Vanes are Alike
Aero Dyne H-E-P Turning Vanes and Rail are laboratory tested and certified for performance.
Did you know SMACNA excludes turning vane performance detail?  If performance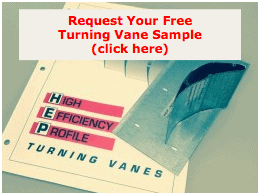 matters to you, it is critical to include performance requirements in your specification.
Aero Dyne H-E-P generated sound power levels do not exceed 54 decibels in band 4 at 2,000 fpm.  Require independent performance test data for pressure loss and generated sound power levels when substitutions are proposed.
Without performance requirements some contractors may attempt to fabricate vanes  in their sheet metal shops.  This will leave your project exposed to questionable static pressure drop and duct noise.  Standard vane rail products often detach from their dimple or tab style supports and are likely to have multiple sharp edges for dust collection.
Aero Dyne is a Made in the USA certified product using steel from American steel mills.  Our manufacturing process is strict and the mill is ISO 9001:2008 certified.  Product is guaranteed against defective material.   
Summary of Aero Dyne Turning Vane Benefits
Acoustical Performance: Eliminates the need for a separate Acoustical Turning Vane Specification.  Aero Dyne H-E-P Turning Vanes are the original acoustical turning vane.  H-E-P does not exceed 54 decibels in band 4 at 2000 fpm (24″x24″ duct size), as required by many engineers. The extended trailing edge maintains smooth airflow with lower turbulence and backpressure, and helps achieve a quiet environment in the classroom, museum, performing arts center, or other facility where acoustical performance is a priority.
True Airfoil Contour: Reduces relative pressure loss to the lowest level attainable, and reduces required fan HP resulting in 24/7/365 cost savings.
Reduced System Effect: When installed before and after fans or air handlers, H-E-P Turning Vanes diminish turbulence and backpressure, reducing system effect (pressure drop added by turbulence immediately upstream or downstream of fan).
Structural Integrity – Used in Low, Medium & High Pressure Duct: 

Unlike single wall turning vanes, the H-E-P airfoil turning vane is a single, roll-formed piece of galvanized hot dipped prime carbon steel that provides a permanent, rattle-proof assembly.  Achieve a RIGID fit with Aero Dyne. No rattling. No detaching. No maintenance.

IAQ Equals Cleaner Duct Environment: Aero Dyne H-E-P Turning Vanes are engineered with a smoothly-rounded entry nose and thin extended trailing edge.  This design limits lint, dust and debris from collecting, which is important for healthcare, educational, correctional, institutional, laboratories, and other facilities where IAQ is a priority .
No other turning vane product provides comparable quality, structural integrity and performance.
Request A Free Engineers Kit
Kit Includes:
Suggested Specifications (.doc format) Section 233300 or 15890
Turning Vane CAD Detail (dwg) for your master CAD detail library or drawings
Performance Comparison – (pdf) H-E-P vs. standard vanes
Submittal Example (pdf)
Case Study
Points to Keep in Mind
Single wall vanes need every sixth vane welded to the runner or need reinforcements attached for ducts running over 1000 fpm
Standard double wall vanes lack positive fastening of the blades to the runner, requiring a tack weld at each end and leaving a possibility of rattling or detaching
The H-E-P turning vane is manufactured with two tie rods through each blade using ring shank fasteners at each end to create a RIGID fit.  No reinforcements necessary.
Product Description
The H-E-P Turning Vane and Rail system consists of three important parts: airfoil blade, vane rail, and fasteners.  Performance may be compromised if assemblies are made without genuine Aero Dyne Side Rails.
3″ Radius Airfoil Blade: 17 point roll-formed process using one piece of 26GA HD Prime Carbon Galvanized steel
Vane Rail:  24GA HD Galvanized steel, assembly slots located design center spacing of 2.4"
Fasteners: Ring Shank style screws fasten into continuous channels inside the blade, leaving no annoying rattle, no detaching, and no reinforcing rods necessary