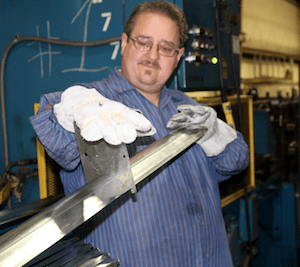 Unlike other turning vane manufacturers, Aero Dyne Turning Vanes are engineered specifically to meet our client's standards.
Our turning vane and rail system is sought after by Mechanical and HVAC Engineers for systems that demand the highest efficiency of air flow as well as noise reduction, including schools and medical facilities.
Because of the engineered, structural integrity of the vanes, they will not blow out, break or fail. Our vanes are an integral component of the HVAC system that engineers can rely on.
Read more about our Labratory Testing and USGBC LEED Contribution here.
How are our turning vanes are designed?
The 27 gauge G-60 galvanized vane is produced using state of the art roll forming process. Roll forming is a continuous bending operation performed at room temperature in which metal is plastically deformed along a linear axis.
Tandem sets of rolls (also known as passes) shape the metal through progressive stages until the desired cross-sectional configuration is obtained. The lock seam shape is produced by mechanically joining the edges of the light gauge roll formed shape to form a closed cross section.
Steel is specific to a gauge range of +/-.003 guaranteeing a consistent cross section and material consistency, with the ability to meet product requirements and specifications.
Additionally, the lock seam holds the section together without compromising the galvanized coating. This entire process allows for tightly held tolerances ensuring product quality.
All vanes undergo a strict quality check prior to shipping with structured inspection plans in place on every order.
To better understand the quality construction of our turning vanes, click here to get your Free Sample.