In our line of work manufacturing turning vanes, we talk to a lot of HVAC engineers, mechanical engineers and technicians all across the country.
They rely on us to produce a high efficiency component that they can use within their system — most often in buildings that require strict airflow efficiency and noise reduction — like hospitals, college buildings and performing arts centers.
Over time, we get to know many of these HVAC engineers on a relatively personal level. They tend to ask questions about our products, and once they've used them on a few projects, our relationships can span out over a few years.
The HVAC Design Engineer Job Search
Occasionally however, we're surprised to learn that one of our engineers has moved on from one company to another (though fortunately, they continue to work with Aero Dyne or specify our turning vanes in their plans).
One question we always ask is, "how did you find your new job?" Generally, there are two responses — a personal connection…and LinkedIn.

Personal Connections Land Jobs
The first response, as you can well imagine, is that they 'knew somebody that knew somebody.' This is the most common way that most people find jobs, whether they're HVAC engineers looking for a new position, software salesmen or a fry cook in the restaurant biz.
The number one way jobs are found is because the job searcher had some sort of personal connection or relationship with someone at the new company.
Maybe they knew somebody that knew somebody. Perhaps a friend referred them, a colleague remembered them or they met someone while networking at an industry event.
Forbes Magazine agrees!
In their article, The Six Best Ways to Find Your Next Job, the top three ways Forbes says are the best ways to ensure a healthy job search are:
Tap into your network
Connect with alumni
Attend events
The big deal here is that you have to let people know you're looking. If you're out of work, then you need to broadcast that to everyone you know.
If you're looking while employed, you'll need to be more discreet of course.
Fortunately, regardless of whether you're currently employed or not, the community of HVAC engineers and mechanical engineers is pretty tight knit.
# 1 – Tap into your network
If you've been doing HVAC design and engineering for a while, you're likely to have collected a lot of contacts along the way.
You might also already belong to associations like The American Society of Heating, Refrigerating and Air-Conditioning Engineers (ASHRAE) or one of their regional chapters. There are literally dozens of them all around the country…and the world. Connect with ASHRAE here.
Or maybe the Refrigeration Service Engineers Society (RSES) as they have been a leader in training and education for professional HVACR technicians and contractors for a number of years.
Or maybe you belong to the Sheet Metal & Air Conditioning Contractors' National Association (SMACNA). SMACNA offers professional assistance in many subject areas impacting the HVAC industry.
Forbes Magazine's advice… "Everybody knows somebody. Within your existing network there are probably three jobs that would be appropriate for you, but the people who could help open doors to those jobs just haven't thought of you. Make a list of everyone you know. Set a goal to touch base with three people you have not talked to for a year or more. Meet one of them for coffee or lunch."
These sites have Career Pages that are regularly updated as well. And importantly, they all offer a variety of resources and education which is helpful if you're happily employed, employed but looking or out of work and searching.
Checking these websites out is a great way to stay current on what's happening within the industry.
# 2 – Connect With Alumni
If you're an engineer, you graduated from a college or university. Hopefully along the way you've managed to stay in touch with people you met in school (either during your undergrad years or while you were getting an advanced degree).
And perhaps, you've joined alumni groups. Many schools have local alumni chapters. It's pretty easy to search for and join alumni chapters in your city. Also, many alumni groups have group pages on Facebook and LinkedIn you can join. It's relatively easy to stay in touch by joining these.
If need be, you can mine these alumni groups to connect with people, whether you know them or not. Helping out a fellow grad is satisfying for most people.
Forbes Magazine's advice… "Call the alumni in your region, go to meetings and grow your network. Adding three new alumni per week (through alumni directories or LinkedIn) is a solid approach–even better if these are in your industry."
# 3 – Attend Events
Get out there. We hear that advice, but it's true. Whether you're looking for a job or not, it's a great idea to attend local events.
First, if you're not looking, it's a great way to 1) build contacts that will build business now and later, and 2) is a great way to build a foundation for that time in the future when you might be looking for a new role.
Also, attending events is a way to 1) blow off steam while getting out of the office 2) meet new people (great if you're single – wink, wink) and 3) an easy way to explore areas in your local community you've never been before — a golf course, a clay shooting range, the insides of a non-profit organization, etc.
Forbes Magazine's advice… "These include ones hosted by charities and professional organizations. Talk to at least one person at every meeting who you haven't met yet. Without imposing, look for an excuse to follow up—by meeting again, or getting a referral to someone else."
And Finally, Searching for Jobs on LinkedIn
LinkedIn is a veritable goldmine for job searches.
Companies that post jobs are serious about finding someone. How do we know that? Because it costs money to place those open job descriptions. In fact, companies will often spend a few hundred dollars to post their positions. That means they're taking the job search seriously on their end — and you should too.
A recent search (on January 26, 2016) showed there were over 3,600 open positions. (And just think — most positions are never advertised — that's where personal connections becomes so important).

Slice and Dice Your Job Search
LinkedIn allows you to search for jobs by Location, Company, and Job Function (or Job Title)…plus more options.
You can quickly narrow your search. This also allows you to see which companies are actively hiring and what they're looking for in a potential candidate (in terms of experience, qualifications, etc.).
From there, you can begin researching who you know at these companies or how you might best get in front of a decision maker there.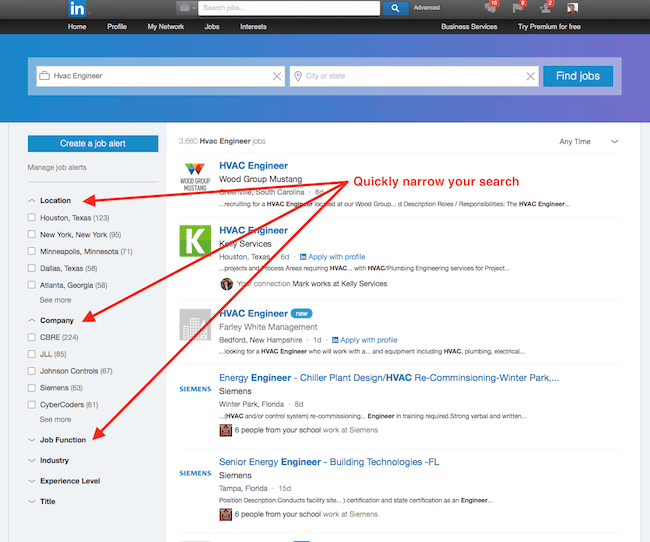 Create a Job Alert
LinkedIn allows you to set up a 'job alert' which can notify you of new positions that become available.
You can choose how often you want to be alerted. You can also choose which specific positions you want to be alerted for.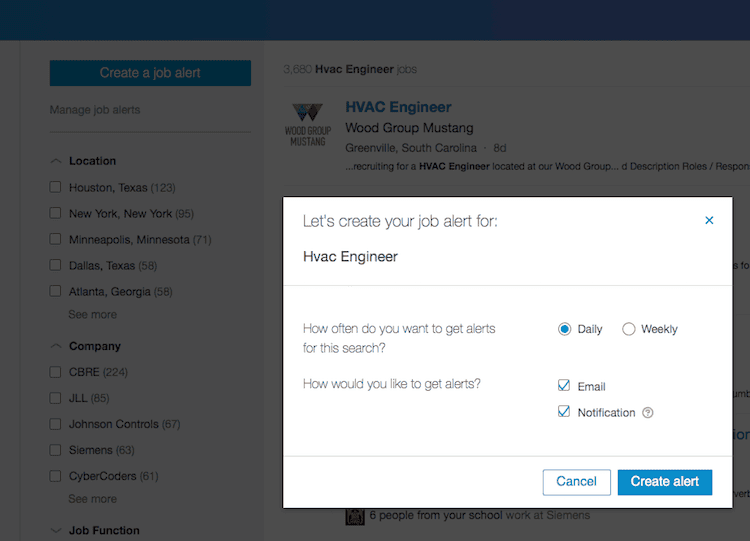 Get The LinkedIn App
Get the LinkedIn Jobs app for your phone…you know, for coffee shop job searches and late night, internet surfing job searches.
They have apps specific to iPhone and Android among others.

Learn more directly from LinkedIn on job searches: Hey Job Seeker, It's Time To Get Up And Get Hired
LinkedIn is very good at showing you how you might be connected to people who already work at the company that is hiring and which alumni of your school might be working there as well.
You can use this information to reach out to people to find out more about the company and the available positions before you even apply.
Better yet, if you make the right connection, they may be able to forward your resume to a decision maker without you having to go through the process of filling out a standardized application.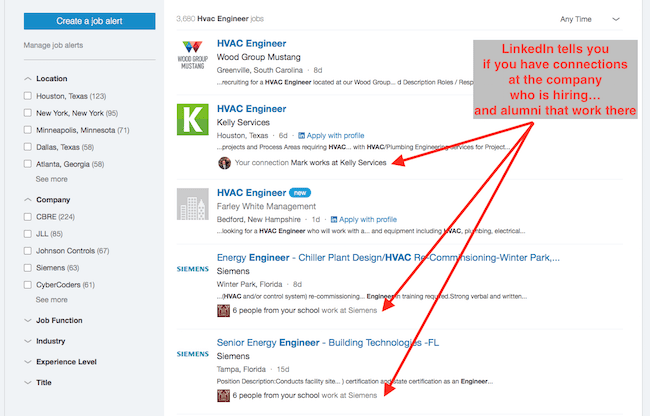 HVAC Design Engineering Jobs for Women
Additionally, there are resources for women who are searching for design engineering positions as well.
The Society of Women Engineers (SWE) would be the first place to start as it's a community of female engineers and has been active for more than 60 years. They also promote a career section and a featured jobs section.
EngineerGirl.org is another resource that promotes opportunities for women in engineering. Plus it's just a cool site to visit!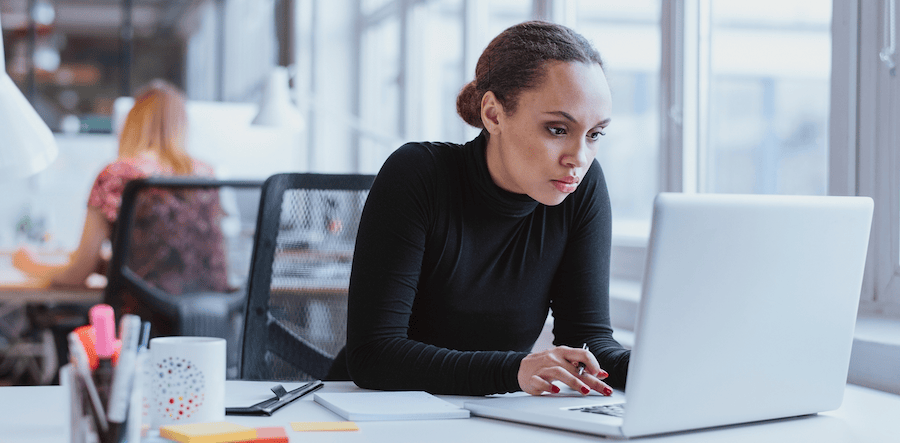 Additional Information When Searching for Your Next HVAC Engineer Job
The Huffington Post: You're Probably Using LinkedIn Wrong — And That Could Cost You Your Next Job
The Undercover Recruiter: 10 LinkedIn Tips to Get You the Job
Business Insider: A Step-By-Step Guide To Getting A Job Through LinkedIn
And More Suggestions…
Visit the Career Section of company websites you're really interested in
Share case studies, articles or awards that you've been a part of — do this on social media and through email
Ask people within the industry for recommendations, insight and tips on how to find a job — you'll never know when someone will say, "I was just looking for someone actually"
Be active on social media and become 'known as an HVAC design authority or resource' within your own city
Seek out engineering headhunters, recruiters or placement agencies. They'll work hard to match you with a position because they are paid based on filling the vacant positions of their company clients. One of the best ways to find those engineering recruiters for posted and unposted positions? Yes — LinkedIn.

Search for Available HVAC Engineering Positions on These Other Websites:
SimplyHired.com/jobs-hvac-engineers
CareerBuilder.com/hvac-mechanical-engineer-jobs
Monster.com/hvac-engineering-careers
You can also job search and research companies by visting GlassDoor.com. You can read reviews by current and former employees.
This can often give you information that can help you make a decision about applying to positions for that company. It can also spark questions you might ask during an interview with the company.
Good Luck on Your Search!
We hope this information helps you find your next engineering position. Good luck out there in your search.